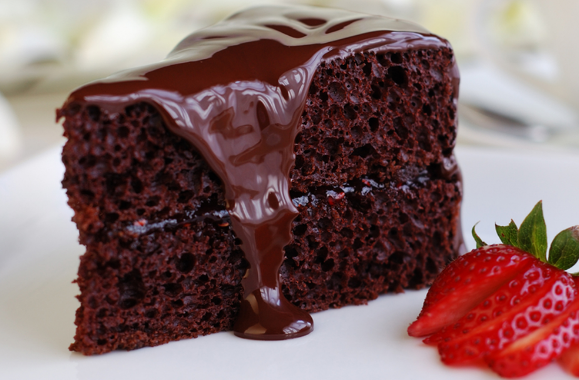 Double Chocolate Cake
Have your cake and eat it too!
The Lake Arrowhead Lodge is renowned for incredible food. We are also a place where guests just feel good and immerse themselves in the cozy comforts of mountain life. One of our guest favorites is our double chocolate cake, a simple recipe that delivers an incredible chocolate rush. Whether you're seeking a little something sweet for yourself or need to bring a delicious dessert to a potluck dinner or a holiday gathering, this recipe is absolute perfection.
Double Chocolate Cake
Yield: One 9" cake or one dozen 4-ounce cupcakes
Cake
15.25-ounce box of Betty Crocker devil's food cake mix
3-ounce box of Jell-O chocolate pudding mix
1 cup sour cream
1 cup vegetable or canola oil
½ cup water
4 large eggs, mixed
Ganache
½ cup heavy cream
½ pound semi-sweet chocolate chips
Cake preparation
Prepare 9" cake pans by coating with food release spray.
Pre-heat oven to 350°
Combine cake mix and pudding mix with the sour cream, oil, water and eggs. Mix until smooth.
Pour batter into cake pan and bake for 25 minutes or until a toothpick can be inserted and removed cleanly.
Cool.
Ganache preparation
In a thick bottom pot, bring heavy cream to a simmer.
In a mixing bowl, pour hot cream into chocolate.
Mix well until combined.
Cool and then pour onto cake, making sure to cover cake evenly.
Refrigerate until cake has cooled completely. Cut into desired portion size.
Serve.