The lodge is located 90 miles east of Los Angeles, and is a convenient drive from most major cities and airports in Southern California.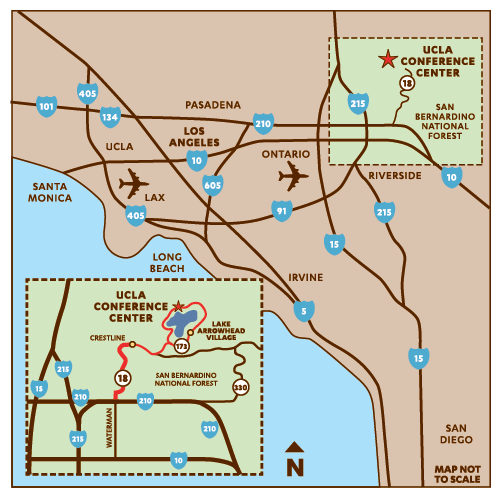 Transportation Services
Provider
Website
Phone
Comments
Ebmeyer Charter & Tour*
ebmeyercharter.com
(877) 326-3937
(760) 247-8727
Experienced with snowy conditions.
B&W Limo*
bwlimos.com
(818) 599-0438
3 to 55 passengers
Black Tie Limousine Inc*
blacktielimousine.net
(949) 859-8590
3 to 55 passengers
Xpress Shuttle*
xpressshuttles.com
(866) 805-4234
Transports groups of 1–2,000
Lake Arrowhead Car Services*
lakearrowheadcarservices.com
(909) 747-2343
Experienced with snowy conditions. Private vehicles available.
Ultimate Limousine
lalimorentalservice.com
(800) 249-1466
Town car, sedan, SUV, passenger van (15 people), limousine (6–10 people), SUV limo (12–20 people), and party bus (20–40 people) services.
Ride San Bernardino Mountains
(909) 338-3471
Taxi alternative
Super Shuttle
supershuttle.com
(800) 258-3826
Enterprise
enterprise.com
(909) 987-5000
Over-Length Bus & Motorhome Restricted Routes
The terms "over-length bus" and "motorhome" apply to single-unit buses and motorhomes that are between 40 and 45 feet in length. Restricted routes can be viewed as either a map or a list.
MAP
: For the Over-Length Bus & Motorhome Map, please visit the
California Department of Transportation: Caltrans website
and click on the red numbers to open each regional map.
LIST
: For the Over-Length Bus & Motorhome List, see the table below. The route segments below should match the red routes on the map web page. These red routes are off limits to over-length buses and motor homes.