Guestroom Amenities
Wood-burning Fireplaces in Most Condolets
Well-lit Workspaces with Multiple Electrical and USB Outlets
Complimentary Wi-Fi
Speakerphones with Personal Voicemail and Direct Inward Dialing for Incoming Calls
MP3 Adaptable Radio Alarm Clocks
Premium Bath Toiletries
Plush Cotton Towels
Extra Pillows and Blankets
Irons and Ironing Boards
Blow Dryers
Relaxing Decks with Spectacular Views
Room Type Inventory & Capacities
Two-bed/two-bath Condolets: 67 units; 134 guests
Two-bed/one-bath Condolets: 7 units; 14 guests
Single room/private bath in Cedar Lodge: 18 units; 18 guests
Double suites/private bath in Cedar Lodge: 3 units; 6 guests
Vintage cottage singles, one bath — Brookside and Stonewall: 6 units; 8 guests
Three-bedroom, two-bath cottage — Geneva: 1 bedroom; 6 guests
Three-bedroom, two-bath cottage — Willow Creek: 1 bedroom; 6 guests
Four-bedroom, three-bath house — Briar Creek: 1 bedroom; 10 guests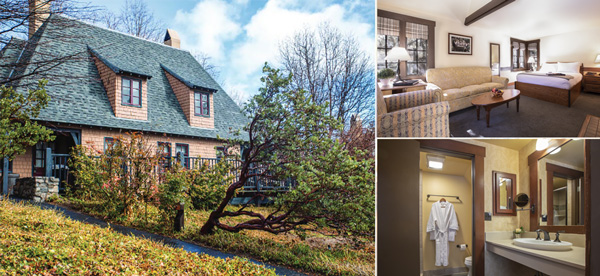 Open Chalet
Escape to nature with friends or family in this two-bedroom open-concept chalet. The first floor features a queen bed in a living room studio with private bathroom and fireplace, while the second floor offers a loft-style bedroom with queen bed and private bathroom.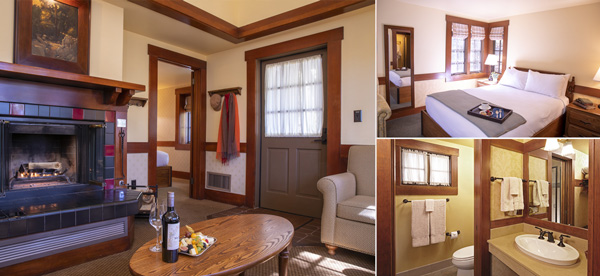 DELUXE CHALET
A cozy space with two spacious sleeping rooms. With a private queen bedroom and bathroom downstairs, and a queen bed loft with private bath-room upstairs, a peaceful night's sleep awaits. This chalet also features a full living room and a wood-burning fireplace for added ambiance.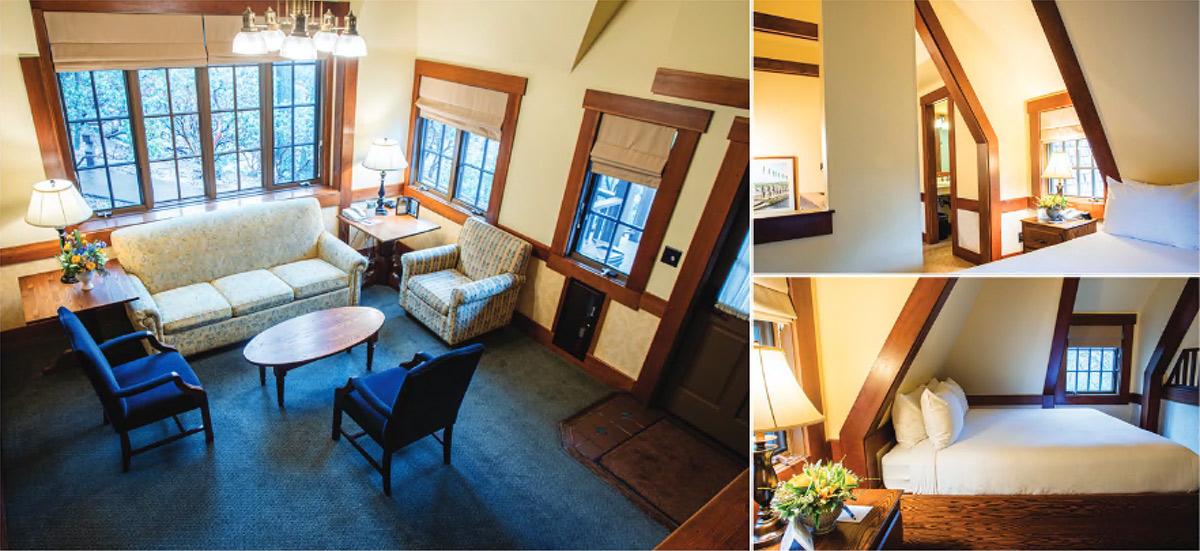 CHALET WITH TWIN LOFT
This chalet features a queen bedroom, bathroom and wood-burning fireplace downstairs, plus two twin beds in a second-story loft for extra guests. Fill your days with activity and adventure, and your nights with rest and relaxation.