There are endless ways to play at the UCLA Lake Arrowhead Lodge. Unwind with a refreshing hike, float in the pool, or get a rousing match of foosball going. Left your tennis racquet at home? No problem. We have a variety of sports equipment for you to borrow. Exercise your mind with a board game in the Main Lodge, or check out our exclusive Lake Arrowhead History Walk.
Activities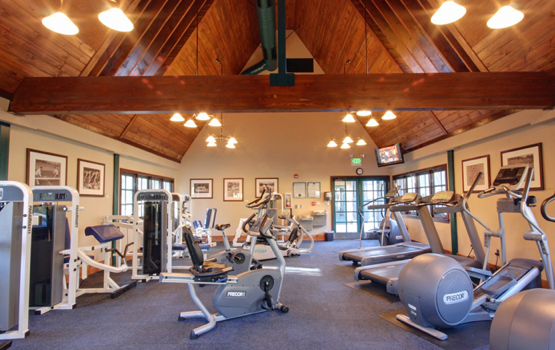 Fitness Center
The Fitness Center is located by the pool and is open 24 hours a day. This state-of-the-art facility offers both cardiovascular and strength training equipment. Use of the Fitness Center is for guests 18 and older.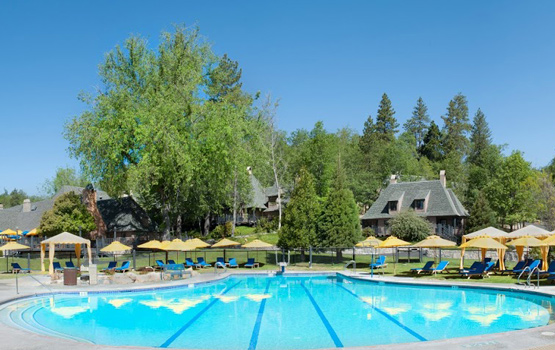 Swimming Pool
The swimming pool is open and heated mid-May through mid-October, weather permitting. Pool hours are after breakfast and until dinner. Your room key opens the gate. Changing rooms are located in the pool house. Please be aware — there is no lifeguard on duty.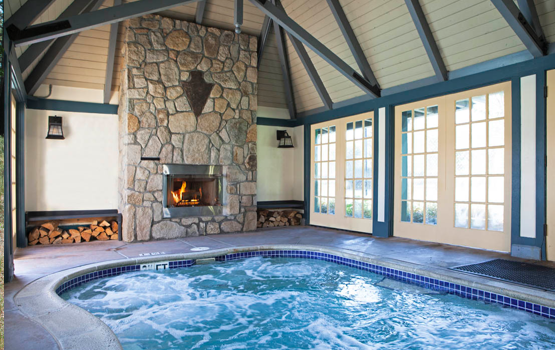 Indoor Hot Tub
Relax year-round in our indoor hot tub, complete with fireplace. Open daily until midnight. Room keys open the gate and door to the changing rooms located in the pool house. Please follow all safety rules. Disposable swimsuits are available for purchase at the Front Desk.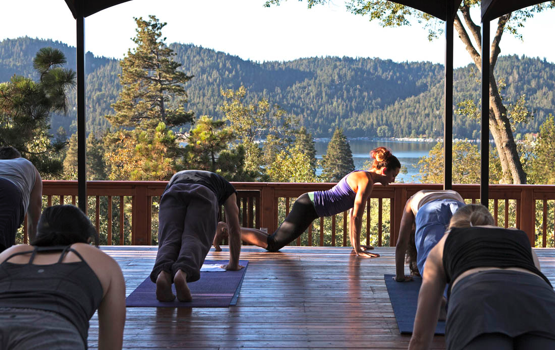 Zen Deck
Guests enjoy the easy hike up to this stunning vantage point, which offers the best view of the lake. From casual group photos and morning yoga to organized wine tasting sessions and painting al fresco, we can organize all sorts of activities here at one of the most treasured spots on the property.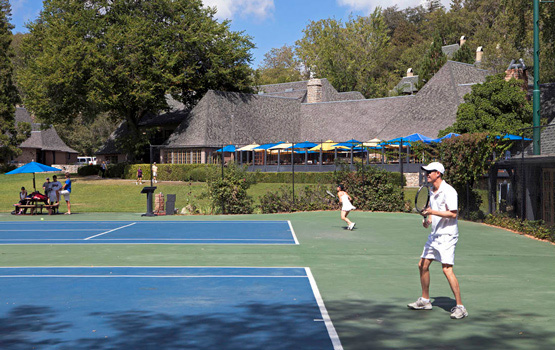 Tennis Courts
Tennis anyone? Whether playing singles or doubles, serve up fast-paced competition on one of our four courts. No need to overpack: tennis balls and racquets are available at the Front Desk for checkout.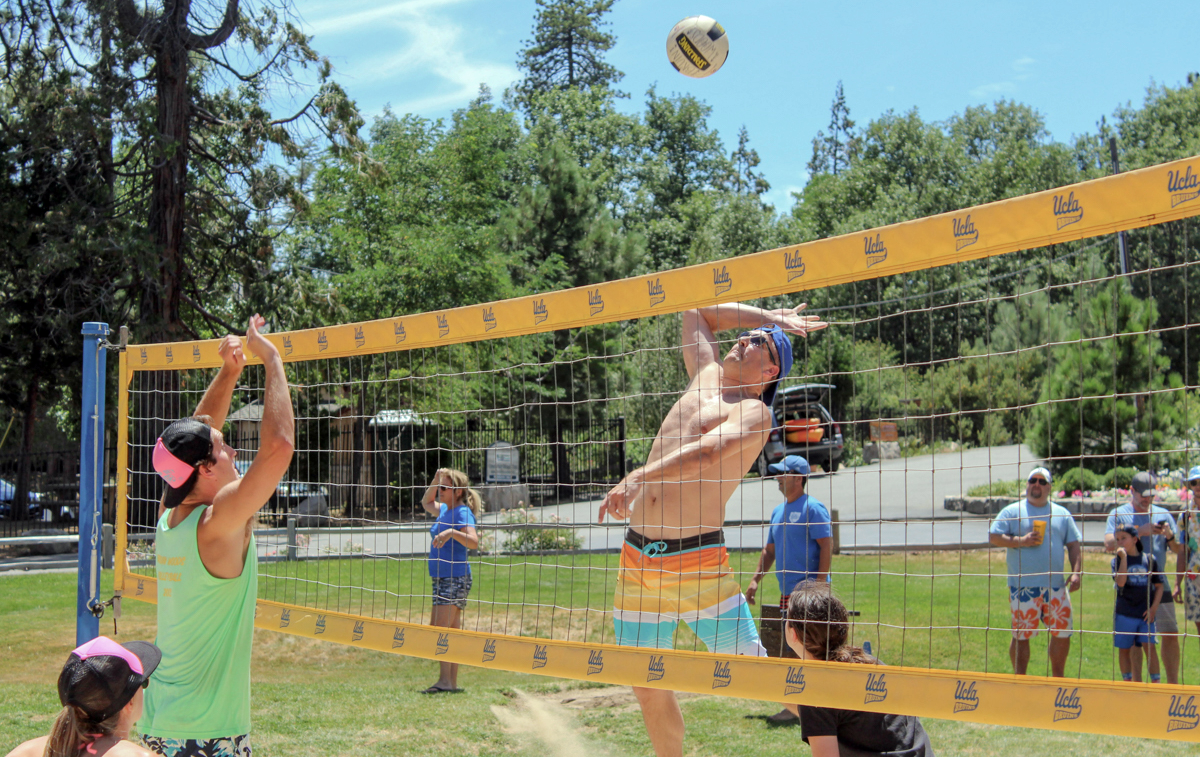 Sand Volleyball Court
Enjoy a touch of SoCal's famous beach lifestyle on our sand volleyball court. Gather your crew to serve, bump and spike your way to victory. Volleyballs are available to checkout at the Front Desk. Don't forget your sunscreen!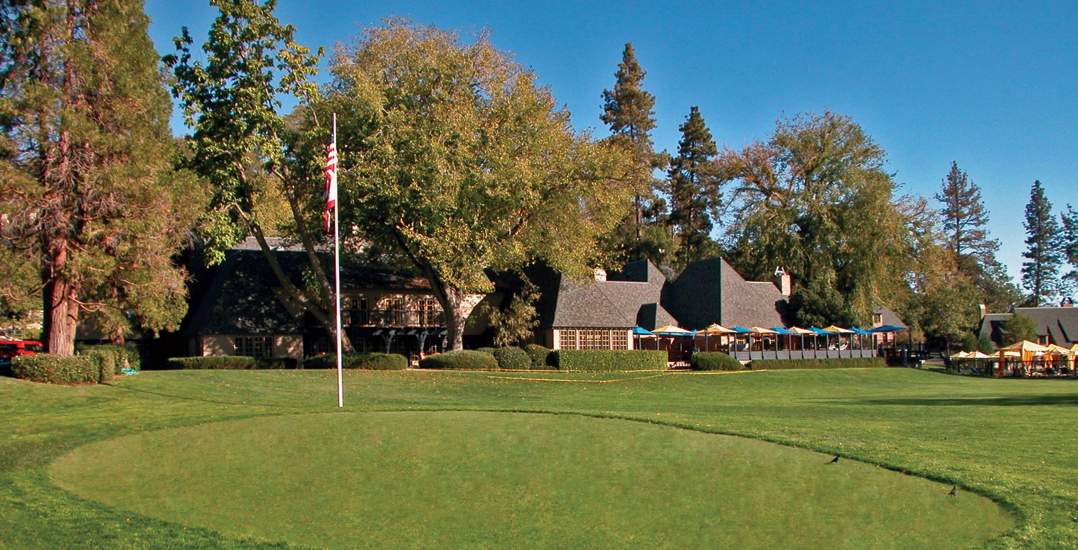 Let's Play!
Challenge a partner to a rousing game of ping pong or get the whole team together to shoot hoops on one of our two half-courts. Enjoy a spirited match of classic lawn games like horseshoes, shuffleboard and bocce. Even rainy days are made memorable with a classic board game. Whatever sparks your competitive spirit, we have an array of equipment available to check out at the Front Desk.