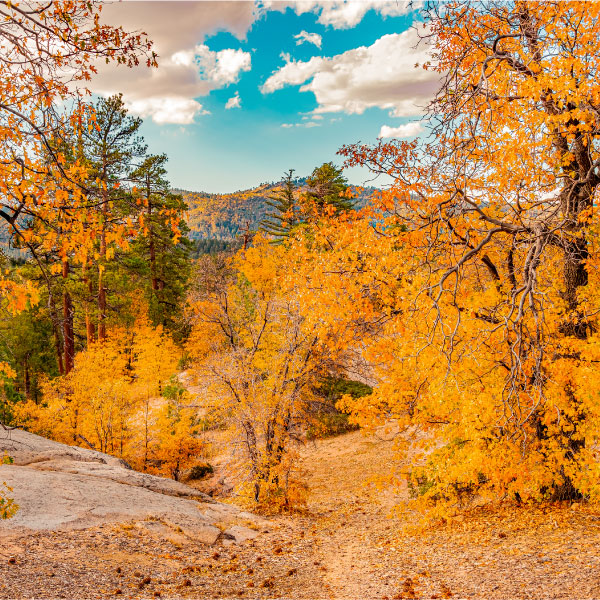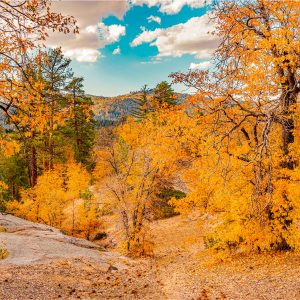 As summer gives way, amber and scarlet hues brush nature's canvas. Southern California's Lake Arrowhead Lodge offers a perfect vantage point. More than just showcasing the golden hues of autumn, the property and its surrounding area burst with activities that embrace and celebrate the season.
Here are just a few reasons why you should add a visit to our Southern California mountain resort to your 'to-do' list this fall.
Leaf peeping and nature's serenade
Leaf peeping tops the list of must-dos. The fall foliage dazzles and mesmerizes as you drive or hike through the mountains. But it's not only about what you see. The activities coordinator at the Lake Arrowhead Lodge points out that the rhythmic knocking of woodpeckers, calls of the California scrub jays and gentle quacks of ducks enrich the property's tranquility.
Reconnecting with the past
History enthusiasts will find a captivating self-guided tour at the Lodge, brimming with tales from a bygone era. As you start this journey, it takes you back to times when prohibition dodgers and Hollywood stars called the Lodge their haven. Film aficionados will especially appreciate the tidbits about movies filmed on these grounds, which enhance the tour's appeal.
Active adventures amidst the fall foliage
On the Lodge's expanse, there's no shortage of fall-centric activities:
Pool time: Dive in for a refreshing experience or bask under the autumn sun.
Hiking and biking: Meander through the trails, immersing yourself in fall's embrace with each step or pedal.
Dining al fresco: Relish a picnic or savor delicacies from local eateries, all in nature's lap.
Starry nights: The pristine mountain skies offer a stargazing experience par excellence as evening descends.
Venturing just a tad bit farther:
Lake tours: Admire the autumnal display from the serene waters of Lake Arrowhead.
Wine tasting: Celebrate the season by sipping exquisite wines from the region's top vineyards.
Local festivities: The area comes alive with fall festivals, offering food, drinks, music and revelry.
Mindfulness in the mountains
For souls seeking solace, the Lodge's 60-minute walking meditation is a rejuvenating retreat. Set amidst the forest, participants journey through relaxation exercises, harmoniously fusing mindfulness with nature's charm.
Oktoberfest festivities
A fall visit to Lake Arrowhead would only be complete with experiencing its lively Oktoberfest celebrations. Set against the picturesque backdrop of the changing leaves and the serene lake, Lake Arrowhead's Oktoberfest promises weekends filled with German beer, authentic cuisine, energetic polka bands and traditional dance. Revelers can don their finest lederhosen or dirndl and participate in beer stein-holding contests, yodeling competitions and much more. Effortlessly combining Alpine charm with mountain beauty, this festival is a unique and unmissable event during your fall stay at the Lodge. As you can see, the Lake Arrowhead Lodge is more than just a destination – it's a sensory experience. From delving into history and basking in nature to adrenaline-pumping adventures and tranquil meditative moments, it promises a diverse and memorable autumnal getaway. So, when the mountains beckon this fall, let the Lake Arrowhead Lodge be your destination.
Planning a visit?
Save up to 20% and receive a $50 food and beverage credit (alcohol excluded)!
Reap the rewards of autumn at Lake Arrowhead with our Fall Values offer.